Business Airport World Expo 2013:
A Tremendous Success!
Visitors and exhibitors alike have hailed this year's Business Airport World Expo, held in London Farnborough, UK on March 19-21, as a huge success with thousands of attendees from 52 countries walking through the doors.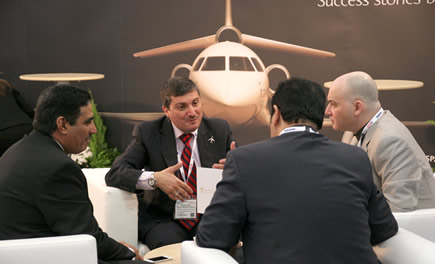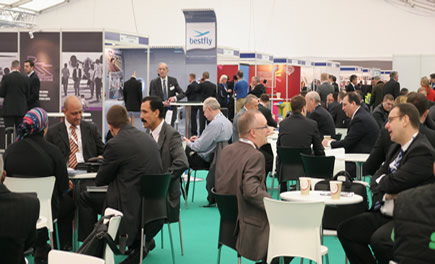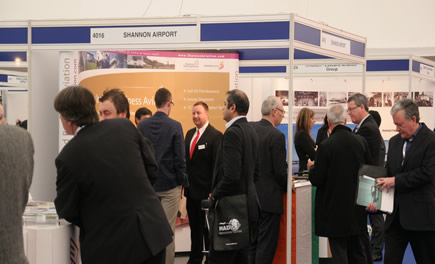 Business Airport World Expo 2013 brought together business aviation executives, brokers, and owners and operators of executive jets to discuss future opportunities and strengthen existing relationships. Also running alongside Business Airport World Expo was the boutique show Business Jet Interiors World Expo and the Business Aviation World Conference, which saw presentations from 30 of the industry's leading figures.
Segun Demuren, managing director, Evergreen Apple Nigeria, who exhibited at the event and also presented at the conference, commented, "Business Airport World Expo is a great way to network and let people know we're alive. It is a good place to catch up with our partners and see what is happening in the industry. It is an exciting time for Nigeria in the business aviation industry and visitors to our stand are very interested in what is going on and how they can be a part of it. Business Airport World Expo is very beneficial to us as it also allows use to understand how we can make things better for our clients."
The show was also a great place for companies to announce their plans for the coming year and showcase new developments in the business. Sami Simola, FBO manager, Business Flight Center, Finavia, was at Business Airport World Expo to promote the FBO;s duty free store, which opened in December 2012: "We have a range of local whiskies, champagne and cloudberry liquor on our stand, which has been very well received!"
Being held in Farnborough for the second time, Business Airport World Expo allowed visitors to target the UK and European market, opening up new opportunities within the business aviation market.
Visitor Karim Berrandou, general manager, G-OPS and High Profile, said, "The English market is a big part of our business and coming to shows like Business Airport World Expo help us to develop and grow this side of our company. It is currently the ski season in France at the moment with many people coming to the Alps on holiday, and we're here to promote our ground handling services. So far the show has been excellent and is proving to be a great way to meet existing clients and make new connections."
Speaking at the end of a very successful three days, Graham Johnson, managing director at UKIP Media & Events, the international exhibitions and publishing company that organizes Business Airport World Expo and publishes Business Airport International, said, "We were delighted with the quality and quantity of attendees this year. You could see business being done throughout the exhibition hall. The show has been so successful that Business Airport World Expo 2014 will be returning to London Farnborough next year on March 26-27 2014 and exhibition space is already selling out fast. Visitors can expect an even higher quality of exhibitors next year, and I'd be very surprised if we don't see at least 2,500-3,000 attendees."
News from the Floor 2013
Bestfly promotes state-of-the-art hangar at Business Airport World Expo 2013
Bestfly Flight Support were on stand 7026 at this year's Business Airport World Expo 2013 to promote its new state-of-the-art hangar currently being constructed at Luanda International Airport in Angola.
The 2,400m² will be the first of its kind in the country and will offer visitors to Angola a safe and secure place to store their aircraft. The company has invested US$800,000 in the new facility, which will be fully closed and will be able to accommodate up to seven private jets. It will also provide all the latest equipment for light maintenance services.
Speaking at Business Airport World Expo 2013, Bestfly managing director Nuno Pereira said, "We are trying to put Bestfly on the map, not only for the handling and management side but also for safety. For customers flying into Angola from outside the country we want them to feel safe when they come to Angola, and they don't need to hire security as they will have a hangar where they can store their airplanes.
"The reaction at Business Airport World Expo to our new hangar has been very good and all of the visitors to the stand have been very interested in our project. It has been a great success."
The hangar is scheduled for completion in June 2013 and will be an extra addition to the company's service offering, which includes handling, fuel, FBO, transfers and hotel reservations.
The company also opened Angola's first FBO facility on December 16, 2012, which offers on-site Customs and Immigration services to streamline the arrival and departure process for VIP customers.
SKY Services launches Sky Guide and app at Business Airport World Expo 2013
SKY Services has announced the launch of its Sky Guide and I-SKYSERVICES mobile app at Business Airport World Expo 2013 in Farnborough, UK that will provide customers with all the information they need when flying into one of the company's Italian FBOs.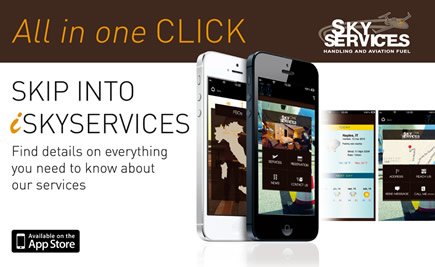 The new products provide information on the services available at a particular FBO in the network as well as a guide to local restaurants, shops, monuments and attractions in the surrounding area. The Guide is currently available for eight of SKY Services' locations, but it will be extended to a further 11 airports and then to the whole of Italy.
"Sky Guide is a complete guide on how to reach our locations, the history of the area, monuments and events for the surrounding area," explained Clemente de Rosa, managing director, SKY Services on stand 2000 at Business Airport World Expo. "This is also available on our app with localised functions. I believe this is the first of its kind in Europe and is great for our customers, 85% of which are from outside of Italy.
"The app is very simple to use. The services tab includes information on our four main services – FBOs, supervision, fuel and Sky Cuisine – with a page for each with all the relevant information included. With just a click you can call any one of our offices or send us an email, making it very easy for customers to communicate with us.
"Under the reservations tab you can make a reservation for handling, fuel or catering. The news section gives customers the latest news and events happening in their current location as well as operations information at the airport. We are a portal for the customer, providing them with all the information they need during their trip," de Rosa added.
SKY Services also used Business Airport World Expo 2013, entral Europe's only exhibition dedicated to showcasing the world's FBOs and business aviation destinations to executive jet owners, operators and brokers, to promote its Sky Cuisine catering services and furnished its stand to reflect the style of its VIP lounges that represent its 'Made in Italy' brand identity.
SAVE SpA presents Venetian experience at Business Airport World Expo 2013
SAVE SpA, the major handler and FBO provider in Venice, attended this year's Business Airport World Expo in Farnborough, UK to present its Venetian experience offering to the business aviation industry.
In an exclusive interview with Business Airport International at the event, Federico Scanferlini, duty airport supervisor and general aviation supervisor, Save, explained how the company is providing a tailormade service to each of its clients.
"We are the major FBO in Venice and we care about the services we provide to our customers. We have many partners in the city, including Starwood Hotels & Resorts, who help us to provide a five star service to all of our customers every step of the way," he commented.
The company is offering a full service offering to both passengers and crew that will enable them to experience the best Venice has to offer no matter what their budget. The company provides handling and FBO services at Marco Polo Airprot, but also helps customers with their hotel and restaurant bookings, transfers, private piers, tour guides and more.
"It is easy in this type of market to miss the needs of the client, and we try to avoid that by helping them have a smooth journey, from when they arrive to when they depart. We have to enrich our offer outside the airport and can do this by working with other providers to make sure they are smiling from start to finish," said Scanferlini.
"Every FBO provide hotel information and car services, but we are presenting a full service that ensures the client receives the same service at all points of their trip. They should not be able to distinguish between each part of their trip; the level of service in the airport, in the hotel, in the car and in the restaurants should always be five stars."
Hundreds of exhibitors, visitors and conference delegates amassed today (19 March 2013) in London Farnborough, UK for the start of what looks to be the best Business Airport World Expo yet.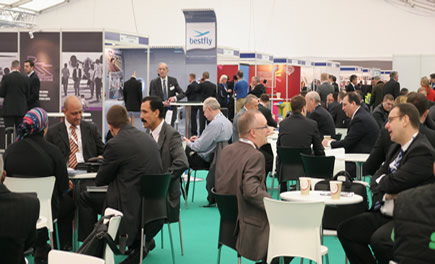 Visitors to the event enjoyed a wealth of discussions and presentations from some of the leading companies in the field of business aviation. Moreover, they were greeted by almost 130 exhibitors, with FBOs and ground-handling partners participating from all over the world, including the USA, Malta, Germany, Nigeria, Iceland, France, Italy, and of course the UK. In all, exhibitors have come from some 33 countries, meaning Business Airport World Expo 2013 is the place to meet new FBO partners and discover new business aviation destinations and routes.
Syed Wahabuddin, CEO, Avicon in Pakistan, enthused, "We provide flight support services and think the World Expo is an ideal event for us as it is so specific to business aviation. A good proportion of our business opportunities can be found here and we use the show to enhance our customer base. It also provides us with the opportunity to meet other service providers and discuss issues in the market."
Visitors to the exhibition today also attended the integral free-to-attend Business Aviation World Conference that is being held across the three-day event and includes presentations from around 30 of the industry's leading figures, including Markham Jackson of the BACA, Marc Bailey of the BBGA, and Brian Humphries of the EBAA.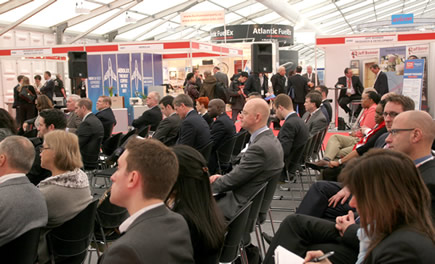 Delegate Jim O'Sullivan, managing director, Exchequer Leasing Ltd, said he was pleased to see so many interesting topics on the bill: "I am very interested in the conference, especially the presentations focusing on Africa as this is a big area of growth, and am looking forward to Segun Demuren, CEO, Evergreen Apple Nigeria, presenting on the challenges of business aviation in an emerging market. I'm also hoping to make some new connections and gain some business. This is my second time to the event, last time it was very beneficial and I think this year will be just as good."
Speaking at the end of what was a very successful first day, Graham Johnson, managing director at UKIP Media & Events, the international exhibitions and publishing company that organizes Business Airport World Expo and publishes Business Airport International, commented, "Today, almost 1,000 business aviation professionals have come through the doors and we expect tomorrow (Wednesday) to be even more popular, with a fantastic speaker line-up, a vast exhibition and a free-to-attend drinks function that takes place within the exhibition hall from 4.15pm until 6pm. It is great to see so much business being done throughout the exhibition hall and I am very hopeful that this year's show will build on Business Airport World Expo's reputation as the place for owners and operators of executive jets to discover new FBO and ground handling partners."