Success all round at the World Expo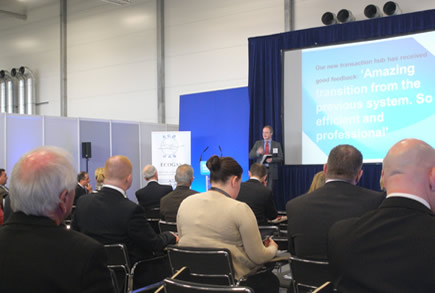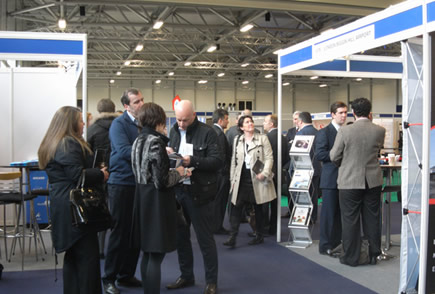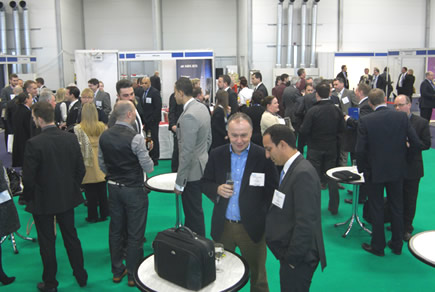 "Busy and at times absolutely packed," said Graham Johnson, managing director of Business Airport World Expo 2014. "We've had around 1,000 attendees enjoy the 60+ exhibitors and the numerous papers and training sessions organized by the BBGA. I personally watched people meeting old friends, existing clients and of course potentially new business partners."
The 2014 event, held at London Farnborough from 26-27 March, attracted visitors from over 30 countries with delegations arriving from as far afield as Argentina. Attendees were greeted by exhibiting FBOs, ground-handlers and business airports from around the world, with exhibitors flying in from the Caribbean, USA, France, Italy and India. "It's once again proved to be a truly global event," said Johnson. "Business Airport World Expo remains the only event in Europe dedicated to showcasing international business and general aviation hubs and their facilities."
The Expo brought together business aviation executives, brokers, and owners and operators of executive jets to discuss future opportunities and strengthen existing relationships, with the BBGA Training Convention attracting some of the industry's leading figures.
"We've had good support on all of the sessions, and I have been pleased with the high level of attendance," said Marc Bailey, CEO of the BBGA. "This is the first time we have held this type of operations training even in the UK, and the response from delegates has been excellent."
Topics of discussion at the Convention included legal aspects of FDM/FOQA data, dispatcher best practice, ISBAO program development, FBO training, RCA awareness and emergency response planning.
Speaker and delegate Carole Leach, who presented 'Training for aviation services: so what do we need to do to stop aviation from falling off the demographic cliff?' at 10:30am on Thursday March 27, commented, "I think the BBGA conference program is very varied and interesting, and there have been a lot of people attending each session."
The show was also a great place for companies to announce their plans for the coming year and showcase new developments in the business. Bestfly Maintenance announced the opening of a new Part 145 Line Station at Luanda International Airport at Stand 4030, while Euro Jet Intercontinental was on Stand 3045 to promote its new smartphone application.
Speaking at the show, Nuno Pereira, managing partner, Bestfly Maintenance, said, "Business Airport World Expo is the only dedicated show for business aviation airports and is very relevant for to our core business. We decided to wait until this event to announce our new maintenance company because Business Airport World Expo is tailored to the right market for us, and we feel it would give us better exposure than one of the other major shows such as EBACE or NBAA."
Being held in Farnborough for the third time, Business Airport World Expo allowed visitors to target the UK and European market, opening up new opportunities within the business aviation industry.
Graham Wilson, commercial manager Aircraft Fuelling Supplies Limited and first time visitor of the Expo, said, "I am involved in the Farnborough Airshow and I have come to Business Airport World Expo to meet suppliers who may be able to assist me at that event. The exhibition is great, with lots of suitable companies for me to speak to. Business aviation is a niche market and Business Airport World Expo is the ideal event for it, all the right players in the industry are here."

News from the show floor
IAM Jet Centre announced Tortola FBO opening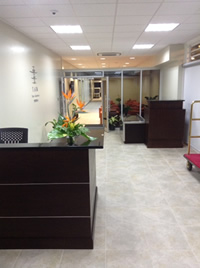 IAM Jet Centres of the Caribbean announced the opening of its new FBO at TB Lettesome International Airport in Tortola, British Virgin Islands at Business Airport World Expo 2014.
The company, which was on Stand 2010 throughout the two-day event held in London Farnborough on March 26-27, highlighted the new facilities at the FBO, which include in-house Customs and Immigration processing, an elegant lounge and meeting spaces, high speed wi-fi, ground and boat shuttle transportation, reliable jet fuel supply, state-of-the-art security screening and highly-trained staff.
Commenting on the opening, IAM Group managing director Paul Worrell said, "Tortola is the centre point of the British Virgin Islands, serving as the official seat of government as well as the gateway for the territory's world renowned international financial services industry and its spectacular marine tourism – featuring amazing gem-like islands scattered in every direction and set in pristine turquoise water. Many of these islands are seasonal homes and getaways for some of the world's leading personalities. Fabulous exclusive resort communities like Oil Nut Bay compliment purpose built marina facilities that are designed to cater to luxury super yachts, and will contribute to the steady growth of high-end tourism to the BVI. The opening of our elegant new jet centre will further enhance this effort."
Staff from the company were on hand throughout Business Airport World Expo to promote the company's network of FBOs across the Caribbean, which includes its flagship full service facilities in Barbados, Montego Bay, Jamaica and the recently opened Grenada.
Euro Jet launches new smartphone application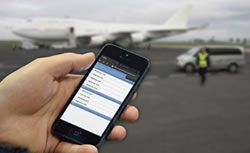 Euro Jet Intercontinental has launched a new smartphone application that allows its agent network to provide real time reporting to its customers.

The company promoted the app on stand 3045 at Business Airport World Expo 2014.

Speaking at the show, Gareth Danker, Euro Jet's director of global sales and marketing, said, "What makes the smartphone application unique is that it is continuously updated while the aircraft is parking, the door opening, the passengers deplaning and so on. Euro Jet has its own staff and agents on the ground that have this ability and it will greatly benefit the client as private aviation customers expect only the highest level of service. The app allows us to go the extra mile to improve our customers' experience, making our staff more accountable for the service we offer."

The application is available exclusively to Euro Jet agents and is currently in use at 80% of all its locations, although this will be increased to 100% by the end of May. "So far the feedback from customers and agents has been extremely positive," Danker added.

The application is part of a number of items that Euro Jet has been promoting during its 5th Year Anniversary. This includes new complimentary VIP crew lounges at Tivat Airport in Montenegro, and a large FBO facility in Prague that includes two VIP lounges and a hangar facility. Throughout 2014, Euro Jet will continue to make new announcements that will include another crew lounge opening next month.

---

Wednesday 26 March:
Expectations exceeded at Business Airport World Expo
"I think we can say with confidence that today people have truly discovered new destinations, routes and business aviation partners," said Graham Johnson, managing director of Business Airport World Expo, the London Farnborough-based exhibition and conference that showcases FBOs, handling agents, and business aviation hubs from around the world.

Johnson continued, "Today has exceeded our on expectations. Close to 1,000 business aviation professionals and executive jet owners and operators have walked through the doors on this opening day, and I've personally witnessed people doing business on the exhibition stands and in the aisles." Business Airport World Expo, which opens again tomorrow from 10:00am until 5:00pm and is free to attend, is also hosting the British Business and General Aviation Association (BBGA) two-day Training Convention for the first time.

The Training Convention includes a mixture of presentations on current topics and open forums to capture and debate issues of concern. Speakers on the first day included Andrew Haines, chief executive of CAA, Aoife O'Sullivan, head of aircraft finance, Kennedys Aviation, Kurt Edwards, CEO, IBAC and Elizabeth Nicholson, Safety 1st programs manager – NATA.



Delegate Cristian Armas Martinez said of today, "I thoroughly enjoyed the ISBAO presentation by Kurt Edwards. It was interesting and provided lots of useful information on the new safety program. The Ground Handling presentation by Thomas Forster and Sumi Foneska from Gulfstream was also excellent. Overall I think the conference and exhibition are great, with lots of companies on display."

FBOs and ground-handling partners are participating from all over the world, including the USA, India, Germany, Iceland, Canada, Malaysia, France, Italy, and of course the UK. In all, exhibitors have come from some 22 countries, meaning Business Airport World Expo 2014 is the place to meet new FBO partners and discover new business aviation destinations and routes.

Visitor Karim Berrandou, CEO of G-OPS, commented, "Business Airport World Expo is a very important event. It provides us with an opportunity to meet operators and FBO providers in one place to discuss developments in the industry. As a French company, the UK market is very important to us and Business Airport World Expo is definitely the place for us to meet all the important players."
News from the show floor
Best Fly Maintenance announced part 145 line station opening
Best Fly Maintenance announced that it will open a new Part 145 Line Station at Luanda International Airport in Q4 2014. The company made the announcement on Stand 4030 at Business Airport World Expo 2014.

The new station in Luanda is to be used for line maintenance tasks, scheduled and unscheduled maintenance checks of Gulfstream G450/550, Falcon 900, Falcon 7x or Beechcraft King Air family aircraft types. Overall, the company is qualified to handle more than 30 aircraft types.

Speaking at Business Airport World Expo, Nuno Pereira, Best Fly Maintenance managing partner, said, "Our new maintenance offering is the natural evolution of an FBO, and we are excited to announce the new company at Business Airport World Expo 2014.

"The station at Luanda is the first dedicated business aviation line station in Angola and fills a much needed gap in the region as it will provide maintenance services covering a large region between Nigeria and South Africa. We have recruited a well qualified team of technicians and will be able to offer competitive pricing for a high level of service. Our aim is to actively list some of the region's major operators".

"We have worked for 15 years on line and base maintenance for military and official government aircraft in Angola, in addition to having valuable experience servicing the country's civil aviation sector. The new line maintenance offering builds on our existing knowledge and positions us well to service clients in the future," added Jorge Molar, managing partner of Best Fly Maintenance.

The maintenance facility at Luanda will include brand new high standard equipment and a broad scope of highly trained maintenance technicians, with a guaranteed capacity for both routine inspection and unscheduled tasks in Luanda and heavy maintenance and overhaul at Best Fly Maintenance's partner base maintenance station.


Sky Services showcased Italian network
Sky Services promoted the company's network of Italian FBOs on stand 1010 at Business Airport World Expo 2014.

The company highlighted the benefits of its network to visitors to the Expo, and also showcased its supervision and permits services, available at all Italian airports, and its fueling services, which it provides at 30 locations.

Clemente de Rosa, managing director of Sky Services, commented, "At this year's show we will be promoting our latest developments, including the opening of two new FBOs in Southern Italy – Bari and Brindisi in the Puglia region. We'll also be discussing our new Flight Academy, which began operations last month. We use only the newest, next generation of aircraft for this service. So far it is proving popular as Italy is an ideal location to fly with perfect weather conditions all year round."

In addition, the company promoted its newest locations in Milan Linate and Milan Malpensa, as well as its VVIP catering service SKY Cuisine, its limousine service, mobile application iSKYSERVICES and its new SKY City Runner guide.
Ireland West Aviation launched private aviation services for 2014
Ireland West Aviation, located at Ireland West Knock Airport, showcased its new private aviation facilities for the first time at Business Airport World Expo 2014.

The company provides an excellent alternative for business customers looking to save time or avoid high traffic areas. Staff from Ireland West Aviation were on stand 1080 throughout the two-day event to promote the ground handling and customer services it offers to business and corporate jets operating in and out of the airport.

Speaking at the show, Joe Gilmore, managing director, said, "This is our first time as an exhibitor at Business Airport World Expo 2014, and we're using the show to promote our services and see what is happening in the industry. We're positive we wil get a great response and are looking forward to meeting many new clients."

The company will also be promoting its one-stop-shop service it provides to FBO, MROs, handling agents and refueling companies, including quick turnarounds and a professional service at all times. Ireland West Aviation also offers hangarage facilities and VIP lounges facilities for crew.